October 10th, 2007
Q: Being a non-girly girl with a few curves, and one that cannot afford or doesn't have the lifestyle to dress up, how can I translate high-waisted trousers into my casual wardrobe? Would I even look good in high-waisted pants being a size 8-10 in the first place?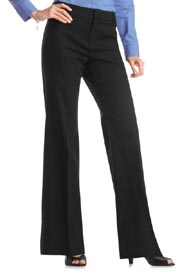 By Colleen Geary, fashion stylist and image consultant
A:
High waisted pants are at once figure flattering and hard to wear. While they visually lengthen the leg line (and make you look taller), they look best on those who are blessed with flat stomachs. Any kind of wrinkling or pudging on the abdomen adds visual volume exactly where you don't want it.
So what do you do if your stomach isn't perfectly flat? Two things:
(1) Look for high waisted pants in heavier, stiffer fabrics to avoid the wrinkle issue.
(2) Try bodyshaping undergarments, like Spanx, to rein in a tummy.
Since high waisted pants shorten the torso, we like to see them paired with puffed sleeve fitted blouses. The height in the shoulder of the blouse draws the eye upward and a fitted blouse balances out the volume of the pants. As a college student on a budget, you can always buy a pair of high waisted jeans at the Gap and pair them with a simple v-neck sweater or a white wrap puffed sleeve blouse. The puffed sleeve blouse creates a more feminine look, but it would flatter your curves. If you're looking for a less feminine look, however, you can try a pinstriped high waisted trouser pant with a fitted v-neck sweater or a standard button-down.
Pictured: Original "Just Below" Trousers | $38 (sale) at Gap.
Have a great tip about how to wear high-waisted trousers?
Share it with us in the comments!
Style question? We've got answers. E-mail us at tips at omiru dot com, or leave us a comment with your question.