Q: Are cultured diamonds considered tacky? I have been researching engagement rings and stumbled onto a website that deals with such products. They seem more sophisticated then I thought. They would also allow me to get a nicer looking ring.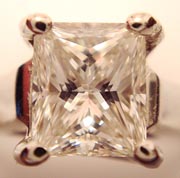 By Colleen Geary, fashion stylist and image consultant
A:
The technology to create cultured diamonds is pretty advanced–as such, these cultured diamonds are the same as natural diamonds in terms of atomic structure, and visually, you can't tell the difference between a natural and a synthetic stone. Of course, these facts aren't advertised by De Beers.
That said, how you choose to express your commitment to your fiancee should not be dictated by Madison Avenue–or by the whims of fashion. A ring can be very beautiful whether it contains natural or cultured stones. The decision should be guided by (1) your finances, and (2) what you and your significant other find beautiful.
Perhaps a less expensive ring that allows you to invest in a home sooner suits your needs (as a couple) better. Or maybe you want to trade natural for cultured in order to purchase a larger stone. Remember the old adage that beauty is in the eye of the beholder. An earnest heart is the best gift of all.

Photo Credit: Stephend9.
Have a great tip about how to buy an engagement ring?
Share it with us in the comments!
Style question? We've got answers. E-mail us at tips at omiru dot com, or leave us a comment with your question.

5 comments October 11th, 2007