October 12th, 2007
Q: Is it appropriate to wear a black dress to a (evening) wedding? I'm torn, because I love black and I do need a Little Black Dress…but I'm concerned that black would be inappropriate for a wedding.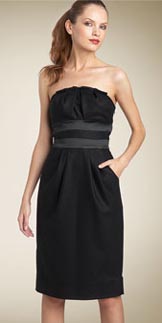 A:
Good news–while black was traditionally off limits to women at weddings, the longstanding tradition has been overturned. You even occasionally see bridesmaids wearing black at weddings nowadays.
Especially since the wedding will be held during the evening, you're going to want richer, more sophisticated colors and fabrics. The black color raises the sophistication bar and will help ensure that you're appropriately dressed for the event.
In any case, every woman needs a Little Black Dress. So–go out and buy it!
Have a great tip about what to wear (and what not to wear) to weddings? Share it with us in the comments!

Pictured: Diane von Furstenberg 'Filomena' Dress | $465 at Nordstrom.

Style question? We've got answers. E-mail us at tips at omiru dot com, or leave us a comment with your question.