Q: I have recently recevied a blue
blazer as a gift and I was wondering what I could wear with it to keep
the young look and what colors would go best with it.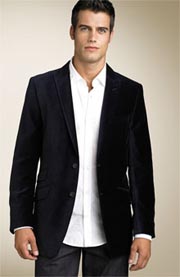 A:
A big part of keeping the blue blazer "young" is fit. Older gentlemen seem to prefer those bigger, boxy cuts, and we associate these looser styles with "old." The way to fit a jacket—any jacket—is by the shoulders. Why? Because the shoulder is the one area a good tailor, even a great one, can't fix (if your tailor says he can, run). How can you tell if the shoulder fits? Stand sideways straight up against the wall – if the jacket's shoulder pads hit the wall before the meaty part of your upper arm, it's too big.

The length of your sleeve should be measured such that it hits your wrist bone; your shirt should be about ½ inch longer. Have your tailor take in the sides for a cleaner, more streamlined fit.

The length of the jacket usually shouldn't have to be altered - you should be able to cup the sides with your hands when your arms hang straight down. Now, there seems to be a movement towards shorter jackets (thank Thom Browne), but at the very least, it should cover your butt.
Now that you know how to fit a blazer, learn what to wear with one in How to
Wear a Blue Blazer, Part I.

Pictured: Ben Sherman 'Weathered' Velvet Blazer | $269 at Nordstrom.
Have a great tip about how to wear a blue blazer?
Share it with us in the comments!
Style question? We've got answers. E-mail us at tips at omiru dot com, or leave us a comment with your question.

3 comments October 18th, 2007