Q: Are there helpful guidelines for layering necklines?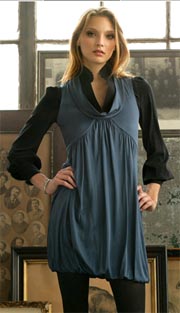 By Colleen Geary, fashion stylist and image consultant
A: There are no hard and fast rules for layering necklines. However, we have two guidelines that will help sort out the eyecatching combinations from the ones that are just so-so.
Guideline 1: Layer Necklines of Contrasting Shapes
Try a deep-v wrap neckline, for example, over a scoopneck top or a camisole. Contrasting shapes create visual interest for the eye and, as such, more sophisticated combinations.
Guideline 2: Find Pleasing Proportions Through Your Balance Point
The distance between necklines should be in a pleasing proportion to your own body type. One technique that helps you discover this pleasing proportion has to do with finding your balance point.
If you measure your face from the top of your forehead to your chin and then drop down the same distance to your chest area, you've found your balance point. This balance point is the most flattering spot for a necklace or blouse to hit. From Stonehenge to the architecture of ancient Greece to the art of the Renaissance, there appears to be a cognitive preference towards the Golden Ratio (1:1.618). Try the Golden Ratio to find the most flattering spot for the second neckline.
Here's an example: If the distance from the top of your forehead to your chin is 9 inches, your first balance point (and the mot flattering spot for your first neckline) is going to be 9 inches down from your chin. The most flattering spot for your second neckline is going to be approximately 14.5 inches (calculation: 9 in x 1.618) down from your chin.
Pictured: Laila Azhar Standing Cowl Neck Dress + Diane von Furstenberg Caridad Top | $385 and $225, respectively, at Shopbop.
Have a great tip about how to layer necklines?
Share it with us in the comments!
Style question? We've got answers. E-mail us at tips at omiru dot com, or leave us a comment with your question.

2 comments October 23rd, 2007