During yet another showing of MTV Cribs (reruns on MTV?….can't be) some rapper whose name I've already forgotten bragged that his watch cost more than a house. And while he admired his half-million dollar custom Rolex, the diamonds flickering brightly enough in the light to blind someone, I remained thoroughly unimpressed.
Watches, it seems, have become yet another chance for men to pretentiously show off their wealth. Every now and then, we follow trends and fads that we believe to be stylish (read this month's GQ for a great list of such fashion crimes), but they aren't. The "bling-bling" watch is one such tragedy.
A gentleman's watch should be subtle and classy, not pretentious and grotesque. It can have diamonds and jewels, but only in tasteful quantities. And if it is expensive, it should be not because the 4 karat, D-colors on the face of the watch manage to spell your name, but rather because of the craftsmanship and its timelessness.

What watch to buy? We present to you five watches worth investing in. These watches all have leather bands, the more formal band material of choice, and they look great any time you want to appear sophisticated and refined. Treat them as investments.
Our $ Find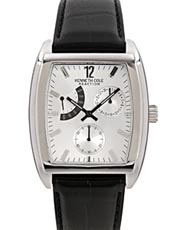 Kenneth Cole "Truth Be Told" | $115 at
Kenneth Cole


Classy and understated, you don't need to take out a second mortgage to be able to wear this beauty. This humble piece looks great with anything, except for maybe tie-dye.



Our $$ Find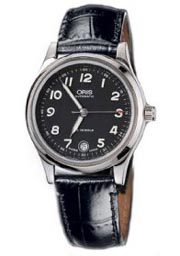 Oris Classic Date Watch | $576


The beauty of this timeless piece from the classic Swiss manufacturer is its simplicity. There's no room for gimmicks here - it doesn't glow in the dark, it will break if you run a car over it, and you can't wear it while you go scuba diving. But what you can do is wear this handsome classic with pride. The piece's red rotor, a symbol of Oris mechanicals, keeps it interesting.



Our $$$ Find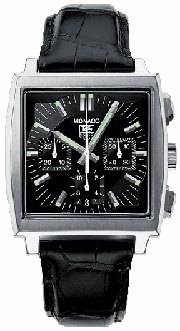 Tag Heuer Monaco Watch | $3,295


Black and beautiful, this classic piece was worn by Steve McQueen in Le Mans. Its square case and black face make it stand out in all the right ways, and it looks especially stylish when paired with a dark suit or tuxedo.



Our $$$$ Finds





Rolex Oyster Perpetual Moonphase | Price N/A


This is hands down one of the best looking watches around. The gold case makes it stand out, but not outlandishly or ostentatiously so - it's not shiny gold that calls attention to itself. Like all Rolexes, this watch is dependable and prestigious. Some may call it a status symbol; I prefer to think of it a sign of a gentleman. After all, it is refined and sophisticated, as all gentlemen are.




Patek Philippe Calatrava 5127 | $19,500


They say that Patek Philippes are the Rolls-Royces of watches, but perhaps it is more accurate to say that Rolls-Royces are the Patek Philippes of luxury cars. Pateks are incredibly hard to find - in their approximately 150 year history, they have produced fewer timepieces, (600,000) than Rolex produces annually. It is one of the most expensive wrist watch brands in the world - 80 of the 100 most expensive watches ever sold are Pateks, including a $13 million list-topper.
What's all the fuss? The firm's ten values are the perfect summary of why this watch commands a nearly $20,000 price tag: Independence, Tradition, Innovation, Quality Workmanship, Rarity, Value, Aesthetics, Service, Emotion and Heritage. And if this doesn't convince you…just put one on. You know something special is on your wrist; you can feel it.
Style tip: I know, I know - those fancy European watch names are impossible to pronounce properly. Here's some help.
6 comments October 24th, 2007