Q: I recently bought a pair of stiletto-heel motorcycle boots, and I have no idea what to wear with them. I am in my twenties and petite. Any suggestions?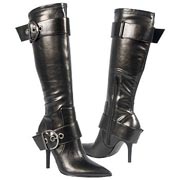 By Colleen Geary, fashion stylist and image consultant
A: These are certainly sexy motorcycle boots! With standout boots like these, you want to keep the rest of your look relatively simple. Pair your boots with items that aren't blatantly sexy–with provocative items, less is more. Three outfit ideas for you:
(1) Classic Cool: A slim jean in a dark wash and a black turtleneck would complement the boots' edginess without competing with it.
(2) Menswear Inspired: Wear a crisp, fitted white button down shirt, slim jeans, and a cropped, fitted black blazer. Bonus points for a skinny tie.
(3) Technicolor: Use color as a secondary focal point with a brightly colored overcoat or handbag. Round out the rest of the look with layered sweaters and a pair of ultra-cool grey jeans.
Pictured: Carlos by Carlos Santana Women's Pistol Boot | $149.99 at Shoes.com.
Have a great tip about what to wear with sexy motorcycle boots?
Share it with us in the comments!
Style question? We've got answers. E-mail us at tips at omiru dot com, or leave us a comment with your question.

5 comments October 25th, 2007