Q: Is there a difference in cashmere quality across different brands? Or, is cashmere just cashmere?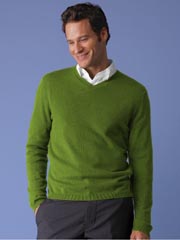 By Colleen Geary, fashion stylist and image consultant
A: Not all cashmere is made equal. Cashmere can come in one, two, or four or more ply. What's the best? Two-ply is preferable to one-ply. But after two ply, any additional ply increases the weight of the garment but not the quality.
The best cashmere comes from the long strands of hair on the underbelly of a cashmere goat. Lesser quality cashmere comes from the goat's back and legs. Also of importance is the "hand" of the cashmere–or how it feels. Look for a silky feel, smooth weave, and great softness.
For reasonably priced cashmere, try Uniqlo, Land's End, or Banana Republic. For high quality, more expensive cashmere, check out Brora, who is known for classic Scottish cashmere with a contemporary twist.
Fun cashmere fact? It takes one goat four years to produce enough wool for one sweater.
Pictured: Cashmere V-Neck Sweater | $178 at Banana Republic.
Have a great tip about where to find (or how to wear) cashmere?
Share it with us in the comments!
Style question? We've got answers. E-mail us at tips at omiru dot com, or leave us a comment with your question.

2 comments October 30th, 2007