Q: I'm a 25-year-old girl living in San Francisco, but my style is mired in my college years. I dress pretty conservatively, lots of jeans and stuff from J Crew. I'm also very short and curvy and the styles these days (loose belted stuff) just make me look awful and stocky. Any ideas on how to spice up my wardrobe?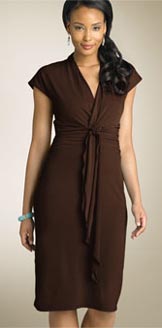 By Colleen Geary, fashion stylist and image consultant
A: 25 is the perfect time to expand your wardrobe from the collegiate look to an urban chic look. And fortunately for you, this fall has rid fashion of shapeless dresses and brought back more tailored styles.
Tops: Choose blouses and shirts with a v-neck to elongate your neck. You have good instincts to pass over the loose, flowy tops–tailored, fitted styles will flatter your curvy figure.
Pants: To create the illusion of more height, try on a pinstriped wide-leg pant. These subtle vertical lines help to create the illusion of height. For maximum figure flattery, let the line of the pant drop straight down from your hip. Do not go wider as you do not want to create additional volume. And on the subject of pants, you can update your denim wardrobe inexpensively at the Gap, where they have a great curvy fit trouser jean.
Dresses: When selecting dresses, choose fluid materials without too much volume. Bonus points for choosing richly dark colors, such as aubergine (perfect for Fall).
Accessories: Pair dresses with an open-toed heel to lengthen your leg line. Heels–or, if you dare–the new ankle-length bootie, are great with the wide leg trouser as well.
Jewelry: Add sparkle and shine to your face with pretty earrings and necklaces. Dangle earrings, in particular, visually elongate the shape of the face.
Pictured: Max & Cleo Cap Sleeve Jersey Dress | $88 at Nordstrom.
Have a great tip about how to build a post-collegiate wardrobe?
Share it with us in the comments!
Style question? We've got answers. E-mail us at tips at omiru dot com, or leave us a comment with your question.

7 comments November 2nd, 2007