Q: I recently purchased a lined ivory sweater dress that hits just above the knee. It's a really cute dress and I want to get as much out of it as I can and make it dress as versatile as possible. What you would suggest in order to dress it down or up?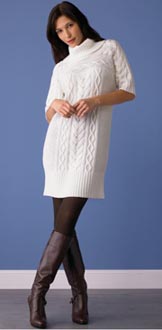 By Colleen Geary, fashion stylist and image consultant
A:
Here's how you can dress the ivory sweater dress up and down:
Casual: For a cute day look, add a chunky knit sweater for extra texture and gold ballet flats, which add warmth to the ivory sweater dress.
Playful: Wear brightly colored tights with neutral colored flats and a little clutch.
Formal: For a formal look, pair the sweater dress with dramatic bronze Mary Jane high heels and simple jewelry: gold or bronze bangles will keep the look cohesive.
Pictured: Merino Wool Cable-Knit Dress | $128 at Banana Republic.
Have a great tip about how to dress a sweater dress up and down?
Share it with us in the comments!
Style question? We've got answers. E-mail us at tips at omiru dot com, or leave us a comment with your question.

2 comments November 6th, 2007