November 7th, 2007
Q: What pieces would you say are the "Top 10" essential clothing items for a teenage boy? Most lists I've seen for men include items that I wouldn't need, such as multiple suits and, say, a trenchcoat (that would be too dressy for school).


A: Here are 10 items of clothing essential for a stylish high school teen, followed by a few suggestions that you can wear to help differentiate you from the 500 other kids in your class. I am reluctant to make a "Top 10" because what you wear depends on where you live. I'm on the East coast now, but I grew up in California, and my wardrobe essentials changed accordingly. In California, I could wear warmer clothes a lot more often, so I had more shirts and fewer jackets. You get what I mean.
But first, a note on fit. GQ once said, "bagginess is for little kids." They're right; the most common mistake I see teens people make is how they fit their clothes. Keep in mind fit as you buy new clothes. A major part of being well dressed is wearing clothes that fit you.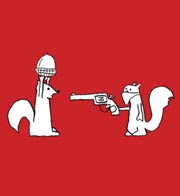 The Graphic T-Shirt
Is there anything more defining of teen fashion than the graphic tee? Think about it – when adults want to look younger, what do they do? They wear a graphic tee underneath their blazer! Young Hollywood often wears interesting graphic Ts – open up a People magazine and check it out.
Nuts Tee | $15 at Threadless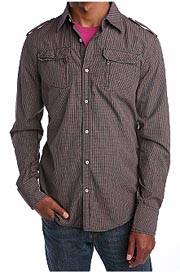 Button-Down Shirts
Great for a date, dance or just anything you want to dress up a bit, sport shirts also are an important fashion rite of passage from dressing like a teenager to dressing like a man in his early 20s. Roll up the sleeves to casualize these sport shirts. Higher end sports shirts can act as dress shirts when you wear a blazer or even a more casual casual suit. Don't try wearing it with a tie though – most sport shirts have collars that are too narrow to look good with a tie (or even support it). A final tip? Try flannel. When done well (re: NOT grungy), it is refreshingly stylish.
Diesel Strude Military Woven | $150 at Urban Outfitters
Hoodies
Have some fun here. You can wear a plain hoodie, or you can choose one with color or interesting graphics. I personally love hoodies that aren't particularly thick, but then again I'm from sunny Northern California.
Stock Pinstripe Sweater Hoodie | 59.99 at Urban Outfitters
Track Jackets
I love the retro coolness of a track jacket. Get a track jacket in cotton instead of that really athletic looking shiny nylon fabric.
Converse by John Varvatos Track Jacket | $195 at Urban Outfitters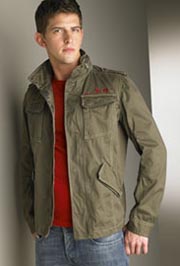 Jackets
Jackets are another fashion "rite of passage." Everyone wears jackets, but while kids wear fleece and nylon jackets, adults will wear jackets in wool and other dressier fabrics. Find a balance here. You will eventually want a dressier jacket, but for now, you can stick to sportier or casual ones. Jackets are an investment, and feel free to splurge on a great one.
Diesel Stitched Jacket | $250 at Neiman Marcus
Belts
Belts should not be used out of necessity–that is, your pants should fit you at the waist already. Belts are another area where you can have some fun by adding some color. Save your leather belts for wool pants; they are too formal and will look awkward when combined with, say, a graphic tee.
Stripe Web Belt | $68 at Brooks Brothers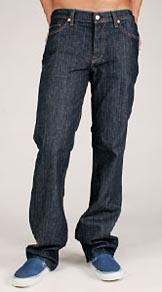 Jeans
Get jeans with a great fade for everyday casual use and wear them to school. Get dark denim with no fade for dressier occasions like dates and dances. Blue is great, but also try grey (or faded black). Don't waste your money on anything but straight leg jeans. A word on pocket design craziness: stick to something simple and classy. This is one area you DON'T want a lot of crazy colors. The best (affordable) jeans I have seen, hands down, is the classic 7 For All Mankind New York Rinse. The picture doesn't do it justice, seriously. Simple, dark and cool.
Standard Jean in New York Rinse | $163 at 7 For All Mankind
Cords
A great casual alternative to jeans, cords are at their most versatile when they have a medium wale. What's a wale, you ask? A wale is a measure of the width of the "stripe" on corduroy fabric. The lower the wale number, the thicker the width.
BDG Bootcut Cord Pant | $49 at Urban Outfitters
Shorts
If there's one thing to remember about shorts, it's that they should be above the knee. This is so important that it bears repeating. A proper fitting pair of shorts should be above the knee. Please do your part in ending America's love affair with oversized shorts by buying shorts that fit – i.e., those that hang above the knee. When spring comes around, try getting some simple light khaki and brown shorts from Banana Republic. Forget the cargo pockets.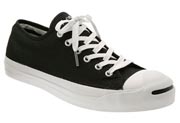 Sneakers
Here's a style tip: don't get your everyday sneakers at Foot Locker. You'll end up looking like Jerry Seinfeld (read: awkward). Get low tops instead of those all-purpose K-Swiss sneakers. Jack Purcells are always a safe bet too.
Converse Jack Purcell Sneakers | $49.95 at Nordstrom

Have a great tip about wardrobe foundations for a young man?
Share it with us in the comments!
Style question? We've got answers. E-mail us at tips at omiru dot com, or leave us a comment with your question.