Q: Would it look weird to dress down dress trousers with a t-shirt and flats (a la Rachel Bilson)? Do you have any other ideas to dress them down?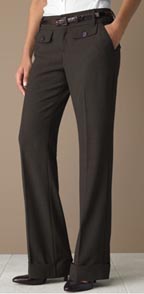 By Colleen Geary, fashion stylist and image consultant
A: Rachel Bilson always looks stylish and age appropriately youthful. Sure, you can imitate her look and wear trousers with a t-shirt and flats. How to do it? Trousers have a wider leg width than jeans or cigarette pants, so you want to be sure to have long legs–or a heel to balance out the width.
Here's another couple of looks you might try:
(1) Dress down your trousers with a casual boot and a slouchy long sweater for a comfy, relaxed look.
(2) Layer two t-shirts of different colors over your trousers. Accessorize the casual look with some fun long necklaces. Be playful, but also be careful with proportions.
Pictured: Martin Lightweight Wool Cuffed Trouser | $69.99 (sale) at Banana Republic.
Have a great tip about how to dress down trousers?
Share it with us in the comments!
Style question? We've got answers. E-mail us at tips at omiru dot com, or leave us a comment with your question.

2 comments November 8th, 2007