November 9th, 2007
Q: Is it possible to wear a white blazer casually in the fall and winter months?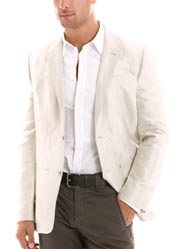 A: As far as I know, there aren't any "rules" associated with the white blazer; there aren't any "rules" in general on when to wear clothes, the famous exception being the old-fashioned "Don't wear white after Labor day rule," which I tend to ignore. That said, there are plenty on rules associated with what to wear in certain circumstances. So, if you really wanted to, you're free to wear the whitest white blazer you can find.
To me, though, it seems a bit "off" to wear a white blazer in the fall and especially in the winter even though white has become a year-round color. White blazers feel like summer wear; I'm even willing to bet that you can't find a ready to wear white blazer made in a winter fabric (i.e. a heavier wool) for that reason. I personally stick to shades of navy and gray for my fall/winter blazers.
If you feel confident and savvy enough to wear the white blazer, be careful not to dress like Don Johnson. Check out Omiru's feature on how to not give off the Miami Vice vibe and check the great photo in the comments section.
Also, I wouldn't recommend buying a white blazer– instead, choose a cream or off-white colored white. And, in fact, the best (i.e. highest quality) white blazers are more of a cream color than paper white, since wool itself isn't bright white. As GQ's resident sartorialist Glenn O'Brien says, "If the jacket is really white, it's probably polyester, a fabric that doesn't breathe well and thus isn't the best warm-weather option."

Pictured: Sleek Blazer | $195 at Armani Exchange.
Have a great tip about when and how to wear a white blazer?
Share it with us in the comments!
Style question? We've got answers. E-mail us at tips at omiru dot com, or leave us a comment with your question.