Q: My gorgeous fur coat (purchased before I came to my senses) was stolen. I don't want to replace it with real fur, but I miss it's beautiful feel, glamorous look and fabulous to wear over nice clothes. I am looking for a high end designer faux fur substitute. Is there such a thing?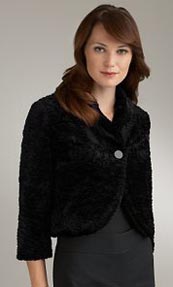 By Colleen Geary, fashion stylist and image consultant
A:
Sorry to hear that your coat was stolen. Any department store such as Nordstrom, Neiman Marcus, Saks, or Bloomingdales would have a large selection of designer faux fur. We recommend finding a coat that doesn't look exactly like fur–wearing faux fur also encourages others to prevent cruelty to animals by raising consciousness, and it's tougher to do that with coats that are too lifelike.
We looked all over for the perfect designer faux fur coat–from Nordstrom to Net-a-Porter, but we couldn't find a high-end faux fur coat that we could recommend. We did, however, find a cute shrug at Ann Taylor that would be a fun piece for the upcoming holiday season. Enjoy!
Pictured: Faux Broadtail Shrug | $128 at Ann Taylor.
Have a great tip about where to find designer faux fur?
Share it with us in the comments!
Style question? We've got answers. E-mail us at tips at omiru dot com, or leave us a comment with your question.

2 comments November 13th, 2007