November 15th, 2007
Q: I've been invited to a wedding in November, but I have nothing to wear. I don't want to get cold. Any ideas?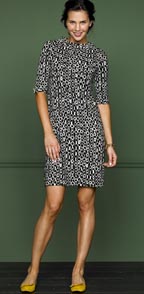 A: Weddings are governed by dress code first, then by season, time of day, and location. If the dress code is formal (e.g. Black Tie or Black Tie Optional), wear standard formalwear: a cocktail dress, a long dress, or dressy separates. If the dress code is more semi-formal, you can get away with a cocktail dress or a tailored suit set.
In order to keep warm, a long sleeved dress is going to be your best bet. With long sleeved dresses, you'll probably want a shorter hem length (aim for knee-length for a wedding) to balance out the extra fabric up top.
Regardless, the key to keeping warm at winter weddings is outerwear. Bring a long tailored coat, a shrug, or a cozy wrap to keep yourself warm. And don't forget hosiery–stockings work wonders to keep legs warm on cold days.
Pictured: Chain Link Print Merino Sweater Dress | $99.99 (sale) at J Crew.
Have a great tip about what to wear to a winter wedding?
Share it with us in the comments!
Style question? We've got answers. E-mail us at tips at omiru dot com, or leave us a comment with your question.