November 16th, 2007
Q: What colour should my suit be if I'm wearing it to a late afternoon wedding in a tropical country? Dress code is "coat and tie."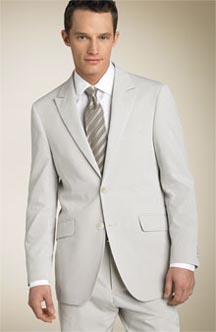 A:
"Coat and tie" is an unusual dress code. There are standard rules for black tie, black tie optional, etc., but "coat and tie" seems vague. It may sound silly, but you can judge the formality of the wedding based on the appearance of the invitation. Is the font and overall appearance of the card more casual? A suit will be just fine. Is the writing calligraphy and formal? You'll probably need a tuxedo.
Still unsure? I would go so far as to even call the happy couple (or someone else that would know). I'm sure they wouldn't mind the question and would probably appreciate your respecting the special nature of the event.
For the most part, it doesn't matter where the wedding takes place, tropical or not. Wear what you would wear to a normal wedding. My guess is that "coat and tie" means black tie optional. What to wear to a black tie optional wedding? It's pretty standard: a simple dark colored suit, crisp white shirt and your (tasteful) choice of tie. Since you're going to be in a tropical climate, however, lighter colors (e.g. beige, white) are also acceptable. You could also consider wearing a cream tropical dinner jacket.
The only other thing to consider is footwear. If the wedding is on a beach, go barefoot and bring a towel to wipe the sand off your feet.

Pictured: Ben Sherman 'Kensington' Seersucker Suit | $595 at Nordstrom.
Have a great tip about what to wear to a tropical wedding?
Share it with us in the comments!
Style question? We've got answers. E-mail us at tips at omiru dot com, or leave us a comment with your question.