Q: I'm going to go meet my girlfriend's family in New York for the first time this Thanksgiving. I want to make a good impression, but I also want to stay true to who I am (which can be described as casually offbeat). What should I wear?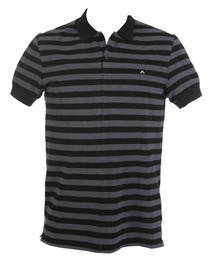 A: A study conducted some time ago about the importance of first impressions in job interviews concluded that the interviewer passed judgment of the potential employee within 3 seconds, and more often than not, that judgment was right. No pressure, though, right?
The point of this story is to not only emphasize the importance of first impressions, but also to applaud your taking them so seriously.
That said, you don't want to seem like you're trying too hard to impress your girlfriend's parents either. Look well dressed but not overdressed; look sophisticated, but not old (yes, you can still look sophisticated and casual at the same time). And try but make it seem effortless, which, admittedly, can be hard.
Since it is a special occasion, you probably want to dress up a little. A sweater would look a little stuffy, as would khakis or dress pants if not done right. I would go with either sporty chinos (flat fronts, unless you're 35) or dressy jeans (dressy meaning dark with no fade). For a shirt, you can either wear an oxford (keep it conservative here, stick with white, blue or something with stripes) or a polo underneath a cotton or tweed blazer (wool would seem a little stuffy here).
Try the pictured polo from J. Lindeberg (I have one in burgundy and charcoal and it's GREAT) with a charcoal cotton blazer over some dark denim and either lowtop white sneakers or brown penny loafers.
You could also try wearing this rugby shirt from Gap underneath a gray tweed blazer like this beauty from Ralph Lauren over some flat-front, sporty stone khakis and brown penny loafers.
It's always hard to tell another person what to wear, so maybe the best thing to do is tell you what I would wear if I was visiting my girlfriend's parents (with the caveat that we probably have different personal styles): gray tweed or cotton blazer over a light blue shirt and maybe a burgundy/gray cardigan over dark denim and simple white sneakers (have you seen those Common Projects lowtops?).
The second most important thing is fit. Bagginess is for kids. Wear your pants on your waist, not your hips. If you have any doubts or questions, visit your tailor.
So what's the most important thing? Dinner Etiquette. Brush up on your manners with this guide and remember, the proper way to eat bread is to break the bread, butter the broken off piece, and gracefully eat it.

Pictured: J Lindeberg Polo Bold Stripe Pique Black | $95 at J Lindeberg.
Have a great tip about what to wear to meet the parents?
Share it with us in the comments!
Style question? We've got answers. E-mail us at tips at omiru dot com, or leave us a comment with your question.
2 comments November 20th, 2007