November 28th, 2007
Q: What would be a good shirt and tie combination to wear with black pinstriped pants? I am fair skinned with blonde hair & blue eyes.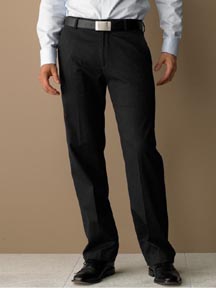 A: Some guys try to go stripe-happy (striped suit, striped shirt, striped tie) and end up looking like the result of a Queer Eye for the Straight Guy makeover. Now, it's not impossible to do, but it's very difficult. I myself avoid it, but if you want to try it, make sure your stripes are of different sizes. Most suits have relatively thin pinstripes, so this means finding a shirt and tie with thicker stripes. Honestly, I haven't seen very many pull off the triple threat very well, with one exception being Isaac Ferry (rocker Bryan Ferry's son) in the July 2007 GQ. But then again, he only looks good because he knows he looks good.
For a more subdued look, try a simple solid shirt and solid tie. You can try matching your tie and the pinstripes (unless they're white). Silver tie with silver pinstripes and a blue shirt always looks good. Some check-patterned shirts look great here too. You can't go wrong with a crisp white oxford here either. If your suit has a navy base, a purplish/blue tie will do well here. You can also try a houndstooth-patterned tie or a dark colored dotted tie. Or for something a little different, try a textured wool knit tie. You can also try wearing a suit without a tie, à la Tom Ford (although I'd suggest buttoning your shirt a bit higher than he does, unless you know you look good).
Long story short, you have a wealth of choices to wear with pinstripes, which is why the pinstriped suit is a classic and a staple of the well-dressed man's wardrobe. Want more ideas? Go pick up any issue of GQ or Esquire. You're guaranteed to find some great examples of pinstriped suits.

Pictured: Straight Black Pinstripe Dress Chino | $78 at Banana Republic.
Have a great tip about what to wear with black pinstriped pants?
Share it with us in the comments!
Style question? We've got answers. E-mail us at tips at omiru dot com, or leave us a comment with your question.