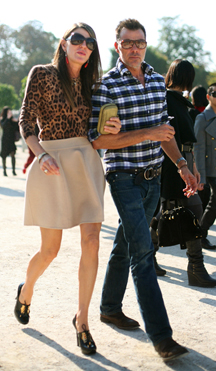 Flannel is one of those things people seem to avoid because, I think, they are scared of looking like an early 90's grunge rocker wannabe. And it's true: flannel can look very grungy when done sloppily. It's too bad, though, really. Flannel button downs are great for locales with colder fall seasons such as the Northeast because of the heavier fabric. Plus, the patterns, usually plaid, can make a bold statement.
So if you want to stand out from the crowd, wear flannel–but do it right. Here's how:
Find a Great Flannel Shirt:
First off, you need to find a flannel shirt. Well-made flannel shirts aren't the floppy and flimsy pieces that you probably saw in the 90's. No, they have lines and form a great shoulder. And while I said they aren't floppy; I didn't say they aren't soft. Here are three of the best flannel shirts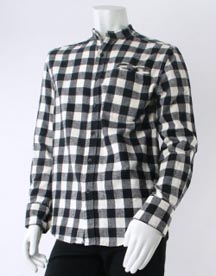 Pictured: Oak "Slash Pocket Buffalo Plaid Shirt" | $130 at Oak
This is a great piece from a great store, Oak NYC. The bold pattern goes well with anything, from jeans to a wool coat. It looks boxy in the picture, but it's not when you wear. Notice the absence of a collar; it's a ring collar, similar to that of a t-shirt. The pocket detail, Oak's signature, is another sleek feature.
Steven Alan "SA Work Shirt" | $178 at Steven Alan
I really like this shirt in Red/Green (use the "choose a style" dropdown to view). Bold and colorful, it's slim fitting and has a great shoulder. It also has a hint of rugged outdoorsman sex appeal. The picture doesn't quite do it justice. Also be sure to check it out in White/Navy.
Cassette Flannel Shirt | $253 at Revolve Clothing
A little pricey, to be sure, but very stylish. It has a hint of West Coast/Southern California fashion, but it doesn't obnoxiously scream "Los Angeles" like those Ed Hardy graphic Ts do. The slightly faded pattern gives it a worn-in (in a good way, like a pair of jeans) vibe.
Craft an Outfit around the Flannel Shirt
As always, fit is going to be key here. If the shirt is big on you, it will look very sloppy. Too small, and you'll give off an emo rocker vibe.
Since these patterns are so bold, you want to let it be the focus of your outfit. Whatever else you wear, make sure it's subtle and, preferably, patternless. Wear your flannel shirt with some dark denim with no fade (or a subtle one at the most). Well-fitted khakis would also work—and they'd look especially good with the Steven Alan shirt. The tan from the khaki complements the green and red, which immediately stand out, but it's the subtle brownish base that really makes it work. If it's cold enough to wear a jacket, pick one that isn't too busy and one that picks up or complements the base color of the flannel shirt. As for shoes, sneakers should (as always) be low tops. Shoes other than sneakers can also work, but this look is harder to pull off.
How you wear your hair is actually important here too. Having medium or longer hair will give off kind of an indie rocker vibe. I'm not saying you shouldn't wear flannel with longer hair, but I'm not saying you should either. I think shorter, more styled hair gives it a refreshingly sleek look.
Last tip? Don't bother wearing an undershirt with these flannel shirts; wear just that shirt and button it, but not all the way.
Photo of man wearing flannel courtesy of The Sartorialist.

Have a great tip about how to wear flannel?
Share it with us in the comments!
Style question? We've got answers. E-mail us at tips at omiru dot com, or leave us a comment with your question.
18 comments November 14th, 2007