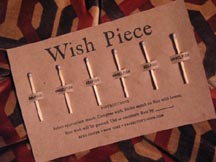 Thank you, dear readers, for another delightfully stylish year together.
In the two years and nine months we've been making your life more stylish, we've brought you a host of ready made outfits (women | men) , trend reports (women | men) , fashion week runway reviews (women | men), and, of course, our signature Q&As (women | men). In the years to come, we look forward to filling your life with more beautiful, wonderful things.
A Year in Review post wouldn't be complete without a New Year's Resolution, and we have one that we can't wait to get started on. This year, we're going to give Omiru a makeover to make it easier for you to find the style tips and tricks that you're here for.
But what about you? What are your goals for 2008? Are you looking to be bolder with your fashion choices? Will you be cleaning out your closet? Are you, like us, looking for a whole fashion makeover?
We're a strong believer that when you write something publicly, you're much more likely to commit to doing it. And we want to help! So, whatever your goals are (fashion or otherwise), we'd be honored if you'd share them with the Omiru community.

If you're so inclined, please share with us your 2008 goals. To sweeten the deal, we'll be sending a few of you a small gift in the mail…a little something to get you started on your 2008 journey. We'll let you know who'll be receiving gifts on Wednesday, January 2, so please add your resolutions before then
To a stylish 2008!

Pictured: Wish Pieces from Reed Seifer | $19.95 at Supermarket. Go ahead and make some unselfish…and selfish…wishes!

9 comments December 31st, 2007