The Plaid Flannel Shirt is back–and it doesn't have to be (nay–it shouldn't be) reminiscent of 90s grunge. John showed the guys how to stand out from the crowd in a plaid flannel shirt, which prompted the ladies to ask how to translate this look for women. The plaid shirt, while reminiscent of a woodsy man, doesn't have to be masculine.
How to give the plaid shirt a feminine touch? Three ideas:
(1) Fit is key. A man's shirt will fall straight at the sides, but a woman's shirt should follow her curves. Too-straight side seams will make you look mannish.
(2) Leave the top button (or two) unbuttoned. Subtly show off your figure.
(3) Choose a shirt with special details, such as a ruffle at the back or tuxedo pleats down the front. The tuxedo pleats down center front on the American Eagle shirt, for example, give the shirt a feminine edge.
Here's our top picks for plaid shirts with a feminine touch: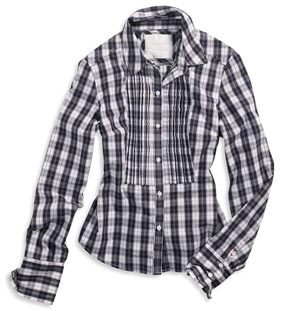 AE Plaid Tuxedo Pleat Shirt | $34.95 (sale) at
American Eagle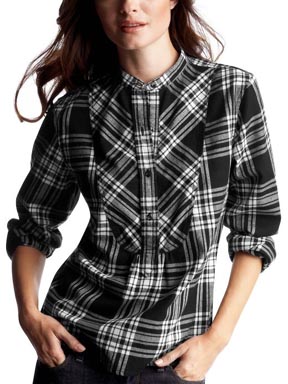 Bib Front Flannel Shirt | $44.50 at Gap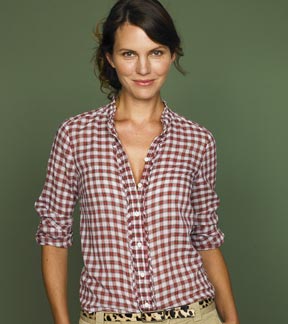 Sparkle Plaid Margaret Shirt | $78 at J. Crew



Charlotte Ronson Plaid Button Down Tunic | $202 at Shopbop
7 comments December 4th, 2007