Q: I'm 18 years old and need a blazer. I'm about 120 lbs and 5′9", so I'm having trouble finding one that fits properly. Do you know of any good places I would be able to find something like that? And would it be easier if I just bought one that fit across the shoulders and had it taken in?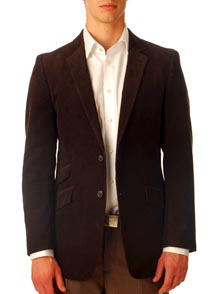 A: First of all, I applaud your desire to find a) a blazer and b) a blazer that fits properly, especially at age 18. You will really appreciate having this blazer when you go out for a nice dinner or a night on the town (read: lounges and clubs that have unspoken dress code policies) in college.
There really are two answers to you questions, both of which you touched on. The current trend is to sport slim fitting suits, not those boxy cuts you may be used to seeing older gentlemen wearing. Fortunately for people like us who favor slimmer silhouettes, designers across the board are making plenty of slim fitting jackets. As a result, most respectable department and retail stores will have the slimmer jackets you are looking for. Forbes.com even ran a feature on how the new Gorden Gekko business "power suit" is actually a slim fitting two or three-piece suit, not the boxy cuts that most execs seem to wear.
I myself wear a Paul Smith London suit and a Marc by Marc Jacobs blazer often; both jackets needed limited tailoring, so I would suggest checking them out first, if you are looking for specific designers.
The second part of the answer is yes, it is easier to buy one that fits across the shoulders and have it taken in. In fact, this is really the only way to buy any suit, tux, or blazer. Why? The shoulder is the one place that even great tailors will not touch. You should still go for designers that are slimmer fitting, however, since excessively slimming the sides can lead to all kinds of problems that may require more tailoring.

If this is your first blazer, I would strongly advise buying a wool navy blazer. It's a staple in a man's wardrobe and is quite versatile. Check out our article on the navy blazer. Read that article even if you aren't getting a blue one; it will let you know the "right" way the blazer should fit and give you a few suggestions of what to wear with it. If this is your second blazer, opt for a gray blazer (go darker than lighter). If this is your 3rd or later, you have a few options here, not only with color, but with fabric – maybe you want a velvet blazer for the winter (especially if you live in the East) or a more casual canvas or cord blazer.

Pictured: Obey Corduroy Blazer | $199 at Ben Sherman.
Have a great tip about how to buy a blazer?
Share it with us in the comments!
Style question? We've got answers. E-mail us at tips at omiru dot com, or leave us a comment with your question.
1 comment December 5th, 2007