December 7th, 2007
Q: I am going to a wedding and would love to wear a black dress with gold detail. Would this be ok for daytime as well as evening?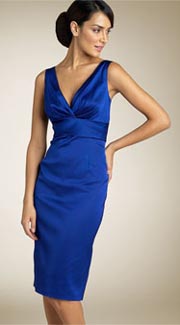 A: Back in the day, it was never OK to wear black to a wedding. Nowadays, however, the wedding etiquette masters have declared black acceptable for evening. Even though black is OK for an evening wedding, it's frowned upon for a daytime ceremony.
If the wedding is a daytime event, choose a dress in another color–anything but black, white/cream/off-white/etc (too bridal), and metallics (too evening). With bright colors in vogue this season, you'll be sure to find a wedding-appropriate dress that you can repurpose (for a holiday party, perhaps).
Extra style tip? With minidresses exploding in popularity, take care to find a dress that is appropriate for the celebration. Knee-length or longer dresses are optimal, and just say no to hemlines that are higher than 2 or 3 inches above the knee.
Pictured: Donna Ricco Stretch Satin Sheath Dress | $158 at Nordstrom.
Have a great tip about what to wear to a wedding?
Share it with us in the comments!
Style question? We've got answers. E-mail us at tips at omiru dot com, or leave us a comment with your question.