December 10th, 2007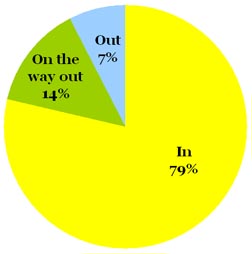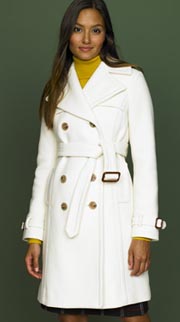 We asked: Is The Color White In or Out?
You said: Overwhelmingly in, with 79% of the popular vote.
Omiru's take: It may not be the most slimming color, but The Color White is winning fans this season with its fresh, clean look. We're hooked too.
Style tip? Go bold with white, and make it the dominant color in your outfit. Pair it with a splash of color for interest. And don't forget to carry Shout! Wipes to help clean up stains. Want more on White? Here's some more tips on How to Wear White.
Next question: We've always been a bit weary of plaid (the 90s grunge rocker look is still too fresh in our minds), but recently, we've changed our tune. Case in Point: John's article about How to Wear Flannel Stylishly and Trisha's How to Wear a Plaid Shirt Without Looking Like a Man. Tell us, is Plaid In,
or is it Out? Cast your
vote on the sidebar!
Pictured: Stadium Cloth Trench Coat| $345 at J Crew.

Entry Filed under: Men,Trend,Trend Predictives,What's In and What's Out,Women