December 12th, 2007
Q: What is the little hole in a man's suit jacket for? It's right above the pocket, not very big, right on the flap part.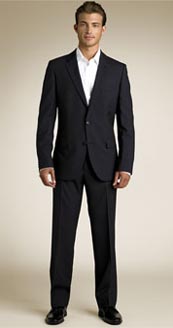 A: There are a few common explanations out there. Some will tell you it is simply a way to proudly display your college pin, back when going to college was really special. Another explanation relates to a story from way back in 1840. As the story goes, Queen Victoria gave Prince Albert a bouquet of flowers, and having no place to put it, he cleverly cut a hole in his jacket lapel and put the flowers through it. From then on, the Prince had his tailor make a buttonhole in all his suits.
But as far as I know, the most historically accurate explanation is that the hole was used to tether a man's top hat so that on windy days it wouldn't blow off his head.
Nowadays, few men actually wear top hats, so the little hole has become almost functionless (although there are some designers that manufacture top hats that can be tethered). However, some creative sartorialists have found a use for this otherwise pointless buttonhole. My favorite has got to be the putting a pocket watch chain fob through it. Scott Schumann, perhaps better known as "The Sartorialist," ran a feature in GQ in which he put his iPod headphones through the hole. I have great respect for Mr. Schumann and GQ, but I don't think it looks all that great.
If you're thinking of wearing a top hat just so you can use this buttonhole, I'd suggest against it. Ancient is not the same as old school. Leave the top hats to your grandfather and the Monopoly man.

Pictured: HUGO 'Awe/Holl' Two Button Suit | $795 at Nordstrom.
Have a great tip about how to use this buttonhole?
Share it with us in the comments!
Style question? We've got answers. E-mail us at tips at omiru dot com, or leave us a comment with your question.