Q: I recently bought a pair of trouser jeans. I have a pear-shaped body (slim upper body and heavier bottom), so where should the flare of the jeans start? What looks the best on a thick-thighed girl like me?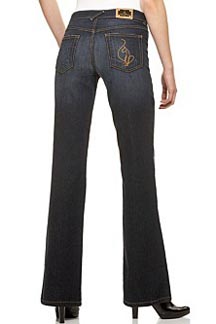 A:
The perfect pair of jeans fits you both at the waist and at the hips. Furthermore, this perfect pair of jeans:
(1) Doesn't gap at the waist (so when you lean over, you don't reveal your underwear),
(2) Contours your bottom so that the seat of your pants doesn't sag, and
(3) Avoids unflattering whiskering around the crotch area.
If you have thick thighs, camouflage them with looser fitting jeans. These jeans should still fit snugly at the waist and through the hip (and contour your behind), but the flare should start at the top of the thigh for optimal figure flattery. What to wear with these trouser jeans? Pair them with a looser-fitting top for a big-over-small look.
Pictured: Baby Phat Original 5-Pocket Jean | $59 at Macys.
Have a great tip about jeans that fit thick thighs?
Share it with us in the comments!
Style question? We've got answers. E-mail us at tips at omiru dot com, or leave us a comment with your question.

4 comments December 14th, 2007