Q: I work in an office where the temperature is always cold, so I'm looking for a fleece or heavy cardigan. I am leaning towards a North Face fleece for comfort, but I think this will look ugly right? Can you recommend something?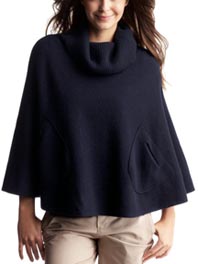 A: Skip the North Face fleece. Sure, it's comfortable and warm, but you sacrifice style. Fleece jackets are fine for outdoorsy activities, but they don't belong in the office (unless the jacket bears a company logo–but still, tsk tsk).
Layering is a practical way to keep warm without pulling out the fleece jacket. You'd be amazed how warm you can keep by simply combining multiple thin layers. The canonical combo is the v-neck sweater over the blouse over the thin t-shirt. But you can mix things up–try, for example, doubling up on the tees and layering a wrap sweater over them.
Worse comes to worse, try bundling up with a sweater or cozy poncho. Chunky knits are big this season, and they're the perfect solution for those of us who sit directly underneath a drafty air vent.
Pictured: Luxe Poncho | $78 at Gap.
Have a great tip about how to stay warm at work?
Share it with us in the comments!
Style question? We've got answers. E-mail us at tips at omiru dot com, or leave us a comment with your question.

5 comments December 18th, 2007