Q: I want a skinny suit, but I'm trying not to spend over $1000. Ideally I want cream since I'm very dark brown. I have a beautiful orange on dark orange Dolce tie and I was thinking of going with a gray shirt. Any ideas for me?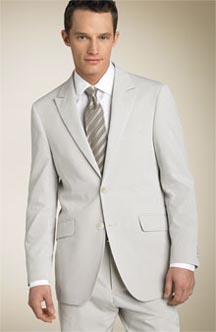 A:
You're right that dark brown skin looks great in light colors–so cream is a good choice for you. We found a narrow-cut, lightweight suit that you may like from Ben Sherman, known for "Carnaby" style fitted shirts and suits.
If it's not available online in your size, you might want to contact Nordstrom (or other department stores) to see if they have it in stock. Also ask for discounts–you might be able to snag a 10%+ discount from an in-store sale.
As for what to wear with the suit, the tie should complement the color of the shirt and/or suit. We like the cream suit with white shirt look, and with this, we'd recommend finishing off the outfit with a metallic silver patterned tie for a classic look.

Pictured: Ben Sherman 'Kensington' Seersucker Suit | $595 at Nordstrom. Note: This suit is currently only available in brown.
Style question? We've got answers. E-mail us at tips at omiru dot com, or leave us a comment with your question.

1 comment December 19th, 2007