Q: If you are not born with a long swan like neck, can you wear boatneck and/or funnel necklines? Obviously these necklines don't visually elongate the neck as V necklines do, right?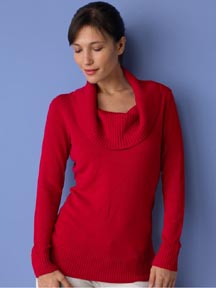 A: If your neck is on the short side (as mine is), V necklines and deep scoop necklines are the most figure flattering. Boatneck necklines also work pretty well, but funnel necklines and turtlenecks aren't your friend. The one exception to the rule: you can wear turtlenecks with oversized, drapey necklines–the verticality of the oversized drape tricks the eye into thinking your neck is longer than it actually is.
Pictured: Long Sleeve Cowlneck Sweater | $88 at Banana Republic.
Have a great tip about great necklines for a short neck?
Share it with us in the comments!
Style question? We've got answers. E-mail us at tips at omiru dot com, or leave us a comment with your question.

1 comment December 20th, 2007