December 21st, 2007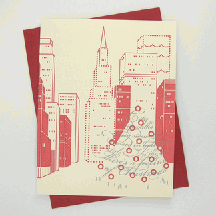 Merry Christmas, all! Omiru will be out on holiday
for the next few days, returning bright and early the day after Christmas.
We'll be celebrating the holidays with friends and family, and we'll be coming up with our New Years Resolutions for next year. One thing that's definitely on the list is a facelift for Omiru. We've kept the same look and feel for the last two years, and we think it's about time for a change. More on that soon–we want to hear your ideas!
We'll also be powering through the list of your reader questions. You're a smart bunch, asking such insightful questions. We want to make sure you get equally thoughtful answers…but the downside is that we tend to get a bit backed up. So, apologies for the delays, but answers are coming!
Need something to read while we're out? Here's a few of our favorite posts from the last few months:
For Women:
How to Wear Rain Boots to Work
How to Build a Post College Wardrobe
How to Layer Necklines
For Men:
Where to Find the Best Peacoats
Top 10 Wardrobe Foundations for a Young Man
How to Wear Flannel Stylishly

Pictured: Peculiar Press City Sidewalks Letterpress Greeting Card | $4 at Luxe Paperie.

Entry Filed under: Off Topic