December 27th, 2007
Q: I'm a 20 year old guy, and I've just bought a pair of military green pants and I don't know what to wear with them or more precisely which colour to wear with them. And I'm looking forward to looking cool and smart in them to impress the girls at university.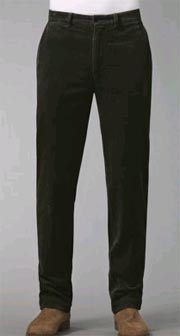 A:
When I think of what to wear with army green or olive green pants, I usually think of urban chic jackets, like this fantastic one by Balenciaga which you can find at Browns. Unfortunately, at 840GBP, it's hardly "affordable."
Army Green is still kind of an uncommon color in a man's wardrobe –that doesn't mean it's not very stylish – but because of this, it can easily serve as the focal point of your outfit. I also think this is why you don't see many army green colored pants – it's a bit unusual to have your pants be the focus of your outfit.

If you're brave enough to be different, however, look good doing it. The most important thing here is that you make sure the rest of your clothes don't clash. Your pants will attract the most attention; don't fight it. Opt for earthy tones here; think cream or off-white, khaki and brown. You can also try the most versatile color of them all: white. If the pants have an olive component to them, you can dry dark navy shirt. As for shoes, I'd recommend wearing some dark brown shoes, preferably in a lace-up style.

If your pants are more of a richer dark — as in I'd-think-they-were-black-if-it-wasn't-sunny dark — you have a few more options. You can try pairing the rich dark green pants with a medium gray tweed sport coat. With this sport coat, you could try adding a dark red or maroon cardigan underneath. Notice I say cardigan and not sweater here: a full red sweater may be overwhelming here, but a cardigan will add just a splash of red beneath your buttoned sport coat.
Oh, and by the way, if you go to an American university, it seems as if all you need to get girls is talk: like my friend Timothy's, your clever-sounding British accent will drive the girls here nuts. Maybe I should have told you all the wrong things and level the playing field here for my fellow Americans.
Style Tip: If you ever are unsure of what color to wear with something, find a color wheel (google image search "color wheel"). In general, colors that are close to the color in question—or those that are on the opposite side of the color wheel–will go well with it. Of course, this doesn't mean you should pair a very loud orange with equally loud yellow just because they sit next to each other. In general, you want to pick colors (and shades of colors) that complement one another, not those that aggressively compete for attention. As you'll find, darker colors are easier to complement; this is why most dark colors, such as navy, are so versatile and popular.

Pictured: Polo Ralph Lauren English Wale Corduroy Pants | $98 at Saks Fifth Avenue.
Have a great tip about how to wear military green pants?
Share it with us in the comments!

Style question? We've got answers. E-mail us at tips at omiru dot com, or leave us a comment with your question.