Q: New Years Eve is on its way. I'll be spending it in Times Square with close friends and some friends of friends. It will be way too cold to dress in a skirt or dress. What to wear?! I'm only 18, so keep it funky!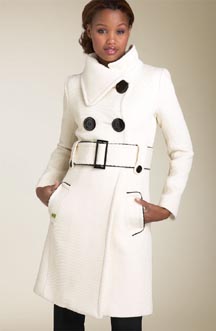 A: Bundle up, it's going to be cold outside! Whenever we see the Times Square New Year's Eve countdown on TV, we see people dressed in overcoats, long pants…and most likely, long underwear. Because it's so cold out, you're going to want to dress warmly too. But bundling up doesn't have to be boring.
Build your outfit around a statement coat. Your coat is going to be the first thing people will see–so be bold and pick a funky color (e.g. teal) or style (e.g. oversized lapels). Bright colors are perfect for your New Year's Eve outing. Not only are they perfectly on trend, but they're also a way to stand out in the crowd–especially if you get separated from your friends…or you want to spot yourself on TV.
Under the coat, dress warmly with a cozy oversized cowl neck sweater. Wool trousers layered over silk underwear will help to keep out the cold.
Add a bit of sparkle to your outfit with accessories. Go bold with a hat and gloves. Deck yourself with statement earrings–or a set of bold bracelets. Layer on a festive scarf. Finish off the look with a pair of dramatic boots. We recommend a low heel–enough to be festive, but not so high as to make your feet hurt.
P.S. Weather.com is calling for rain on New Year's Eve. So don't forget your umbrella!
Pictured: Soia & Kyo Double Breasted Belted Coat | $360 at Nordstrom.
Have a great tip about what to wear for New Year's Eve?
Share it with us in the comments!

Style question? We've got answers. E-mail us at tips at omiru dot com, or leave us a comment with your question.

4 comments December 28th, 2007