January 3rd, 2008
Q: I'm a schoolteacher, and I would like to find a nice coat that I can wear over my long skirts and dresses to work–but could also possibly be paired with pants during the cold, snowy days. Any suggestions on where to find the perfect coat?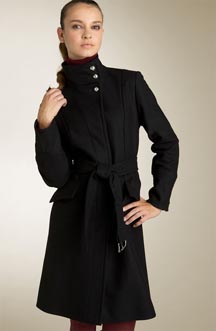 A: When coat shopping, fit is key, so we recommend going to department stores where you can try on coats from a variety of brands. As for fit, you should be looking for a snug fit in the shoulders (and for the most flattering look, high armholes).
Given that the coat will be paired with long skirts and dresses, look for a long coat. You can let your skirts and dresses show from under the coat, so long as the overall look is loose. If you have a highly structured coat, over, say, a pencil skirt, you're going to want to fully cover the skirt. But if the shapes of the skirt/dress and coat are less severe, a bit of skirt peeking out never hurt anyone.
Here's a few affordable coats you may want to start with:
Nick & Mo Audrey Tweed Coat | $98 at Nordstrom
Oversized buttons and a cinched waist give this coat some flair.
London Fog Double Breasted Wool Trench Coat | $188 at Nordstrom
You can't go wrong with a classic trenchcoat.
Jessica Simpson Platter Collar Coat | $188 at Nordstrom
Love the belt and the oversized collar.
Pictured: MICHAEL Michael Kors Belted Wool Coat | $228 at Nordstrom
The standup collar and the metal dome buttons make this coat quietly dramatic.
Have a great tip about where to find the perfect coat?
Share it with us in the comments!

Style question? We've got answers. E-mail us at tips at omiru dot com, or leave us a comment with your question.