January 4th, 2008
Q: I have a fabulous pair of black wide leg trousers and although they have faded they still look good. The problem is I can no longer wear them with black. What dark colours can I substitute?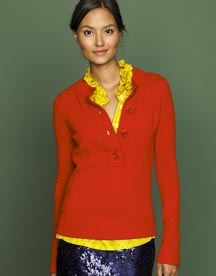 A: Your instincts are spot on: you don't want to pair these trousers with black, since that will only draw attention to the fading. Plus it's near impossible to match different shades of black, and you only want to wear two black items together if they're a perfect match.
Though you're down a pair of black trousers, you're up a pair of (super) dark grey trousers. So treat the faded black wide-leg trousers like you would a pair of dark grey pants.
Dark grey pairs well with all kinds of bright colors. Crack open any fashion magazine from this season, and you'll see grey paired with bright blue, grassy green, sunny yellow, or even shades of purple.
Be bold with your fashion choices, and have fun!
Have a great tip about what to wear with (or what to do with) faded black pants?
Share it with us in the comments!

Pictured: Cashmere Henley | $188 at J Crew.

Style question? We've got answers. E-mail us at tips at omiru dot com, or leave us a comment with your question.