Q: I have tiny calves and have been looking for a cool pair of knee high boots. Can you suggest a brand that tailors to smaller calf sizes? It seems anymore that everyone makes bigger boots, but not small ones. I'm a runner who is 5'8" and all skinny leg.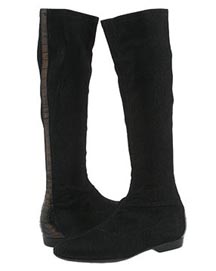 by Colleen Geary, fashion stylist and image consultant
A: The good news is that you're blessed with slender calves. The bad news is that designers find that more women have oversized (rather than skinny) calves–and your boot selections are limited.
With your slender calves, you're going to want to look for two things: soft materials and stretchiness (since boots cut in stretchy materials have a narrower cut). Combined, soft material and stretch should hug even the skinniest of calves. Start your search with this Donald J Pilner boot, which features soft suede and stretch material. While it was designed to stretch for oversized calves, it may just fit your legs without stretching.
Worse comes to worse, if you find that the soft, stretchy boots are still oversized for your calves, you can have a shoemaker take them in (or splurge for custom boots).
Have a great tip about where to find knee high boots for skinny calves?
Share it with us in the comments!

Pictured: Donald J Pilner Doris Boot | $338.95 at Zappos.

Style question? We've got answers. E-mail us at tips at omiru dot com, or leave us a comment with your question.

1 comment January 8th, 2008