Q: What is the ideal shirt length on a guy wearing a button down shirt untucked? Is it really ugly if it is too long? It seems that if the shirt shows underneath a closed blazer, it would be bad.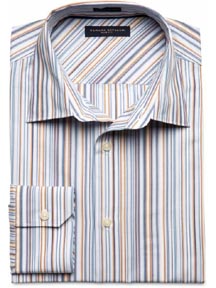 A:
The ideal shirt length for a guy, whether it's a button down, a polo, or a t-shirt, is halfway down the zipper (assuming your pants actually fit you).
If you wear something over the shirt - a sweater, a vest, a jacket, a blazer – tuck your shirt in, unless it's a properly fitted t-shirt.
While we're on the subject of fit, make sure the rest of the shirt fits. As with jackets, you should fit your shirt based on how it fits on your shoulders. This is because you can shorten a shirt's sleeves or length, and you can take it in at the waist, but you can't change the shoulder (it's also a comfort thing). The shoulder seam (the line of the shirt that connects the body of the shirt to the sleeve) should rest in the little gap between that little bump at the end of your collarbone and your arm.
If you're wearing a short-sleeve shirt, the sleeve should rest in the middle of your bicep, halfway between your elbow and shoulder.
If you're wearing a long sleeve shirt, the sleeve should end in the little gap on the side of your wrist (or, alternatively, about ¼ inch below the wrist bone).
If you're wearing a button down, the buttons should not stretch the shirt when buttoned. The collar should fit snugly – but not tightly – whether buttoned or not.

For basically everything I've just written but with pictures, check out Details' guide on how to fit a shirt.
Style tip: This may all sound a lot, but trust me, if you find a shirt that fits properly in the shoulders, as described above, chances are, the rest will fit accordingly. The bottom line: focus on the shoulder fit, and you'll probably be all right.
Have a great tip about shirt length–or how to fit a shirt?
Share it with us in the comments!

Pictured: Slim Fit Multi Stripe Dress Shirt| $98 at Banana Republic.

Style question? We've got answers. E-mail us at tips at omiru dot com, or leave us a comment with your question.

2 comments January 9th, 2008