Q: My husband and I will be touring southern Africa. We are from the most southern area of Arizona and see that the temps in S.A. are quite cool in May…in fact, they look cold! I heard from a lady who was headed to Africa the next week that every color other than the khakis and brown tones were not allowed. Has anyone heard of this clothing color rule?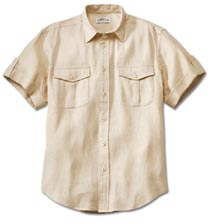 by Colleen Geary, fashion stylist and image consultant
A: How ironic, as I read your question, I was having tea with a good friend from Knysna, South Africa. She had never heard of color restrictions on safari–unless you are on a walking safari (in which case your game lodge should inform you of restrictions).
To be practical, you may want to wear khaki clothes so as not to show dirt and dust and (should the weather be warmer than expected) to deflect some heat. If you get cold, as you suggest, you may want to look for darker colors, which will hold in the heat.
In the cities, my friend said to expect colors similar to those worn in Miami - bright and tropical. Dress in layers, as the temperatures will vary dramatically throughout the day and evening. It cools down a lot in the evenings, and FYI a lot of buildings aren't heated.
As for where to find clothes, Orvis online has great travel clothes. One last tip? Remember to bring practical shoes and a hat.
Have a great tip about what to wear on safari?
Share it with us in the comments!

Pictured: Corners of the Globe Safari Shirt | $69 at Orvis.

Style question? We've got answers. E-mail us at tips at omiru dot com, or leave us a comment with your question.
2 comments January 11th, 2008