Q: I am getting married in April on Maryland's Eastern Shore. My fiance and I are trying desperately to have a very casual wedding. Ties will not be allowed. My fiance will be wearing one of the new J Crew bridal dresses, which are nice because while they are full-on bridal dresses, aren't as crazy formal or elaborate as typical wedding dresses. What should I wear?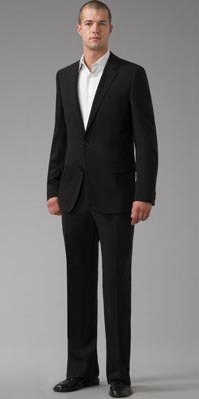 A: You should be as formal as your bride. You said that her dress is a full bridal gown, but it isn't a "crazy formal or elaborate" gown. Does this mean the dress isn't down to the floor? The length of the dress instantly adds (or subtracts, in the case of a short dress) to the formality of the gown.
If her dress is knee-length, try a blazer over a button-down shirt with wool trousers with dressier leather loafers. Warning: I wouldn't suggest pleated khakis and a navy blazer, unless you're going for the country club look. Instead, try a medium or dark gray blazer with a white shirt. You'll find that a crisp white shirt will really pop beneath that color blazer.
If her dress is down to the floor, I would say go with a suit but no tie. The key to this look is the shirt collar. Get a flimsy collar and it will fall down under your jacket lapel and look sloppy. Keep the look sharp with a firm collar. GQ explains how to pull off the look here.
In either case, you'll be wearing a jacket over a button-down, so tuck in your shirt.
You said you want a "relaxed" suit, but I don't think you mean that. Relaxed is a term that describes a loose but not baggy fit. It's usually associated with jeans. If that is what you mean, then I apologize. In that case, try looking at American made suits. The so called "sack suits" are usually boxier, looser cuts. The jacket would follow your silhouette, the trouser will feature a wider leg, and so on.
It's up to you, but I personally favor a more slim-fitting suit, especially for a no-tie look. Try some European designers. I have a Paul Smith London suit and can personally vouch for its fit.

A big factor of formality with suits is color. The darker the color, the more formal the suit. I would agree with you and stick with a darker suit here. Moreover, you're not wearing a tie, which also makes your look less formal, but if you did, I would tell you to wear a skinny (but not TOO skinny) tie. I would also tell you not to wear a belt. A lot of people don't wear belts nowadays, especially with the "shrunken" suit in fashion. Going beltless is a sleeker look and tends to add an air of informality. The beltless look has become a fashionable look; GQ's Style Guy (Glenn O'Brien) has written that he never wears belts with his suits.
Whatever you do, just remember that sophisticated is clean, simple and tailored. If your clothes are all of those things, you will shine whatever you wear. Also, before you buy anything, know how things should fit. Certainly, the tailor will help you when if you get a suit, but you should also know yourself how things should fit. I liken it to buying a car. Sure, you can go to the dealer and trust everything they say (and if you go to a respectable dealership they probably are honest), but you still want to have prior knowledge. I strongly recommend reading Details' Men's Style Manual. It will give you a very good sense on what proper fit means and how to really look chic.
Have a great tip about what to wear to a casual no-tie wedding?
Share it with us in the comments!

Pictured: Hugo Wool Suit | $795 at Saks Fifth Avenue.

Style question? We've got answers. E-mail us at tips at omiru dot com, or leave us a comment with your question.

5 comments January 16th, 2008