January 22nd, 2008
Q: I was wondering if you had any good ideas about wearing headbands and some different types that are "in" right now.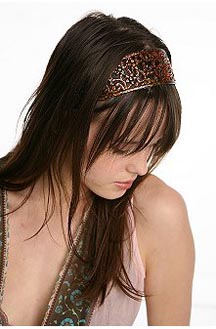 by Jessica Stockdale, Style and Beauty writer at Found4less.com
A:
Headbands are stylish, easy to wear, and versatile. And the great news is that they've been re-embraced recently. No matter how long or short your hair is, there's a headband out there that's right for you. How do you know what kind of headband will work for you? Here's a good rule of thumb: the shorter your hair is, the thinner the band should probably be.
Headband Types:
Not only can you choose the color of your headband, but you can also choose patterns, materials and widths. A solid colored headband can look proper and polished if worn in a classic or neutral color that shows nicely against the color of your hair. Then again, a solid colored headband can also look trendy and fun if worn in a bright hot pink.
The patterns available on headbands are endless – you can find anything and everything from polka dots to pirate skulls. And you can find a headband in materials that fit any mood—from girly to glam—including plastic, leather, and silk or velvet.
Some headbands are nothing more than fabric pieces that you tie and adjust to your head. These headwraps aren't scarves (but can sometimes resemble them), and they are made to be a specific width.
What's hot right now? The skinny headband is on the rise—probably to suit the ever-so-popular bob hairstyles. But choose your headband to flatter your own hair and head. Any width can look nice.
How to Wear a Headband: Three Easy Ways
The easiest way to wear a headband is to just slide it on - it's even simpler than programming a TiVo! But if you're short on time and want a different look, you can mix up this simple look by changing your part, or wearing the headband with no part.
My newest favorite way to wear a headband is to pull the top half of my hair up and back into a clip. (I usually leave some shorter layers out to frame my face, using pomade to help define the pieces.) Then I put a headband on. For thinner headbands, wear as is. But the thicker the band is, or for a more dramatic look, I suggest putting your hair up so that it has some height (a light and quick application of both holding gel and hairspray will help) and then putting the headband on so that it's very low and angled a bit forward.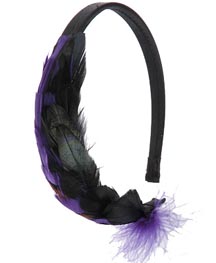 Wearing a ponytail doesn't mean you can't wear a headband. The ponytail can sit low at the nape of your neck or anchored to the side so that you can pull your hair over your shoulder. And while medium ponytails are okay, a high ponytail looks really great when paired with a headband. That velvet headband you wore the other day when your hair was down will look totally different when you change your hairstyle. Style tip? Instead of a ponytail, try a bun. Many stylish celebrities, like Sarah Michelle Gellar, Amy Adams and Scarlett Johansson have walked the red carpet with their hair in a high bun, accented by a thin black headband.
Comfort tip: Look for wide plastic headbands that are lined on the inside with fabric. The fabric lining will make them more comfortable to wear and reduce the chance of headache.

Have a great tip about where to buy chic headbands–or how to wear them? Share it with us in the comments!

Pictured, from top: Jelly Filigree Headwrap | $12 at Urban Outfitters, Ribbon Double Headwrap shown in Pine | $10 at Urban Outfitters, and Satin Feather Headband | $4.80 at Forever 21.
Style question? We've got answers. E-mail us at questions at omiru dot com.