Q: How should I dress during a date? How much should I reveal?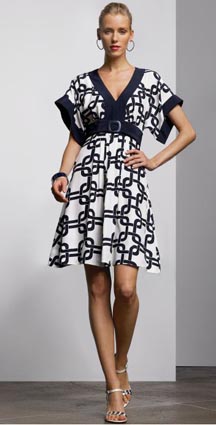 by Vicky Zhou, fashion expert at Got a Crush?
A: How you dress is critically important to making a great impression. You don't want to send him the wrong signals about you by how you dress—or how you act, or your date may just think you are looking for something other than a significant other. How to put your best foot forward every time? Dress for yourself first and foremost. Here's what you need to know:

How Much to Reveal:
Women know men like to see a little skin, but how much is too much? You want to show enough to get his mind thinking about what is underneath. But suggesting and showing are two very different things.
How do you balance suggesting and showing off your assets? Two examples: wear a crisp white button-down shirt by Ralph Lauren and leave the top couple of buttons open to hint at some cleavage. Or try a deep scoop neck top with three quarter sleeves. The arm-thinning three quarter sleeves balance out the suggestive scoop neckline.
Dress to reveal your strengths. What's your favorite part of your body? Wear clothes that highlight that. Are you in love with your long, long legs? Wear a more revealing skirt to show them off. Do you have an elegant swanlike neck? Wear a statement necklace to draw attention to it.

What to Wear:
If you're a dress kind of gal, you're in luck. Fashion's fascination with dresses translates into a wide variety of styles for you to choose from. For a day date, try a cotton sundress or a silk jersey wrap dress (extra points for bright colors or bold patterns), a statement accessory, and the appropriate outerwear. For an evening date, venture into cocktail dress territory—or, if the occasion calls for it, slip on an evening gown.

What about pants—or is a skirt better? Either can work, but when in doubt, go with a skirt. Skirts are, by nature, more feminine and their inherent sexiness can unleash your natural confidence.

If you're feeling brave, try an above-the-knee length skirt with a sleeved top. The more your reveal of your legs, the more you should cover up on top—and vice versa. If you're more comfortable with conservative skirts, go for an ankle-length skirt (not one that hits at mid-calf—that length is almost universally unflattering) dressed up with sexy heels.

As for footwear, high heels add extra shape to your legs—and they're a real leg lengthener (especially in styles without an ankle strap). But if you're not comfortable in high heels, try a lower heel height or a thicker heel, both of which are easier to walk in.
Lastly, you come to the coat. If it's cooler outside, then a snug peacoat or three-quarter length coat is an attractive way to finish off your outfit. If you're blessed with warmer weather, then a simple shawl or button up sweater would do the trick nicely.
The next time you're getting ready for a date, dress for the occasion (no evening gowns at Sunday brunch!), but more importantly, dress to make yourself happy so you'll make the great impression that will get him asking for that next date.
Have a great tip about what to wear on a date?
Share it with us in the comments!

Pictured: BR Monogram Silk Geo Print Kimono Dress | $148 at Banana Republic.

Style question? We've got answers. E-mail us at questions at omiru dot com.

11 comments January 24th, 2008