by Tamiko Kelly, Fashion Expert and Style Maven at Margarite Elaine
My girlfriends and I have very different definitions of timeliness. While I'm the supreme planner and book our dinner reservations weeks (sometimes months) in advance; many of my girlfriends either forget to RSVP or show up moments after its fashionable. As my party slowly trickles in, I ALWAYS receive a call from someone running ridiculously late. (My favorite excuse is "Where are we eating again?")
During our most recent holiday dinner, I had an "ah-ha" moment in the middle of a very heated discussion about Gossip Girl. One of my girlfriends threw her hands up in excitement. As her thumb knocked over a glass of red wine, I noticed that she wasn't wearing a watch. I quickly scanned the table and noticed that all our wrists were bare (well, actually I was wearing enough bangles to score a starring roll in Yash Chopra's next Bollywood flick)—and ah-ha! I realized that I had to get all of us in the same time zone! Read on for 5 watches (one for each of my best girlfriends) to invest in. No matter what your personal style, you'll come out stylishly on time.
For the Art Deco Girl: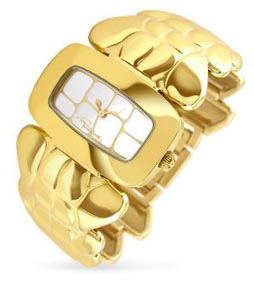 Roberto Cavalli Coco Gold Plated Croco-style Bracelet Dress Watch | $450 at
Forzieri
She frequents the MOMA, has friends at the San Francisco Design Center and knows the difference between a Lowboy and a Bombé Chest. This watch is a bold statement piece that features modern style with a touch of savage beauty (gotta love those crocodile embossed links).
For the Vintage Girl:
Badgley Mischka Watch | $195, Call 800.840.2155 for purchase info
Featuring Swarovski crystals and a grosgrain strap, this watch is reminiscent of the dress-up watches from the 20s. As an added touch of elegance, the beautiful faceplate opens to reveal the timepiece hidden beneath.
For the Glamour Girl: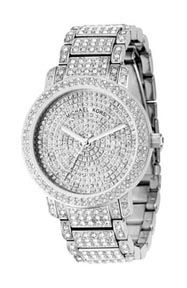 MICHAEL Michael Kors Pavé Bracelet Watch | $275 at
Nordstrom
We all have one: a girlfriend whose taste far exceeds her paycheck. This watch is for her. Now she can have all the bling without the added sting to her wallet. With all the money she saved, she can buy a sleek silver clutch to match.
For the Classic Girl: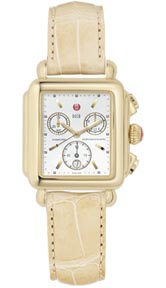 Michele Watches Deco Non Diamond Gold White Mop Camel Alligator | $705 at
Michele
The beauty of the timepiece is its understated elegance. It'd be perfect for the girl who frequents Banana Republic, charges more on her J. Crew card than I'd care to discuss and has built relationships with every Club Monaco in Northern California. I almost forgot to mention that this watch comes complete with a Mother of Pearl dial and is finished nicely in gold.
For the Sophisticated Girl: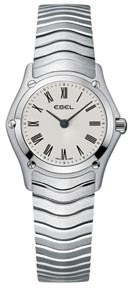 Ebel Classic Steel Mini Ladies Watch | $1,102.50 at
JomaShop
Ebel is known for their sleek designs, soft curves and delicate construction. I selected this timeless classic for the girl who treasures the craftsmanship of her Bottega Veneta handbags, the finesse of her Montblanc pens, and the sophistication of her Baccarat stemware.
9 comments January 25th, 2008