January 28th, 2008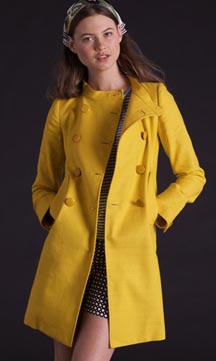 We asked: Is Bright Yellow In or Out?
You said: In, with a landslide 78% of the vote!

Style tip? This sunny shade has the power to brighten the dreariest of days. Beat the rain, snow, or slush with a punch of bright yellow–on a dress or overcoat if you dare. Feeling less adventurous? Try a bright yellow headband, scarf, or handbag. Looks especially fetching paired with grey.
Next question: Leggings remain a winter staple, especially for this season's 80s inspired looks. But would you wear them? Cast your
vote on the sidebar!
Pictured: Cherbourg Coat | $275 at J Crew.

Entry Filed under: Trend,Trend Predictives,What's In and What's Out,Women