Q: I recently bought a beautiful, white leather, wide obi belt that wraps around and is supposed to be tied in a knot in the front. But I don't know what to wear with it. Any suggestions would be greatly appreciated!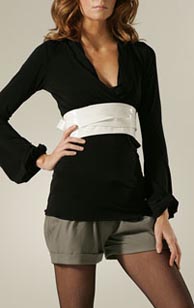 by Jessica Stockdale, Style and Beauty writer at Found4less.com
A:
Obi belts do wonders to define your waist, so you can pair them with larger, more shapeless garments. Obis are a wonderful accessory for calf-length dresses, long tops, tunics and loose blouses.
Most necklines will look good with an obi belt. Just be careful with turtlenecks/mock-turtlenecks if your top doesn't have sleeves. Depending on how wide the obi belt is, the overall affect may or may not be slimming.
Obi belts are worn higher up than a normal belt, and they should cinch you a little above the waist. The belt should be cinched around you, but it shouldn't be too tight. If you can't move freely and sit comfortably in your outfit, it'll be obvious, and the outfit won't look right.
Because the obi belt makes a bold statement, pair it with solid colors to heighten its appeal. Bonus points for choosing a bright solid color to pair the obi belt with—the resulting look is very modern.
Your wide white leather obi belt is perfect for warmer months and climates, so bright colors are going to be your best bet. Try pairing it with this billowy kimono sleeve tunic at ($39.99 at Spiegel)—or this vibrant Diane von Furstenberg sleeveless floral tank dress ($325 at Neiman Marcus).

Have a great tip about wearing an obi belt? Share it with us in the comments!

Pictured: Elegantly Waisted Patent Cummerbund Belt | $82.50 (sale) at Shopbop.com.
Style question? We've got answers. E-mail us at questions at omiru dot com.

3 comments January 29th, 2008