February 1st, 2008
Q: I am petite (5′) and I always dress demurely, which is really important to me. Is the tunic over jeans look an acceptable outfit for a person with a small frame? Is it too overwhelming, and if it is, are there any other alternatives?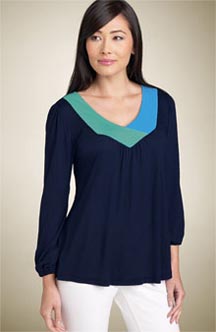 A: Your fashion challenge is to dress demurely while not overwhelming your small frame. The tunic over jeans look can work, but take care in choosing the tunic. Because you're petite, extra volume has the tendency to add unflattering bulk. So the ideal tunic for you would be slightly more form fitting than the average tunic.
Other demurely fashionable tops include a chunky knit cardigan, a form fitting turtleneck sweater (extra style points for detailing like oversized buttons), or a sleeved, graphic patterned button-down blouse.
At the end of the day, style is about adapting fashion to your own tastes and desires. If you wear whatever makes you feel the best, you can't go wrong.
Have a great tip about how to dress modestly and stylishly?
Share it with us in the comments!

Pictured: Me & Ko Printed V-Neck Tunic | $48 at Nordstrom.

Style question? We've got answers. E-mail us at questions at omiru dot com.