February 3rd, 2008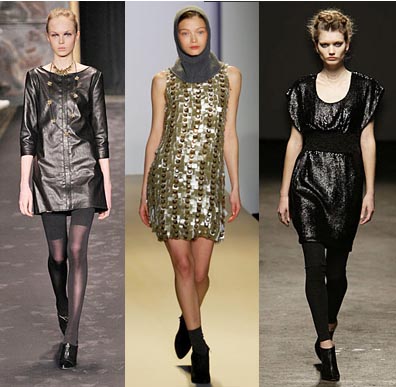 Photo Credit:
NYMag.com
Shine at Rag & Bone, Abaete, and Yigal Azrouel.

Style tip?
Shiny fabrics tend to visually enlarge the figure, so wear accordingly. Runway models (and those with slender figures) can get away with allover shine, but the rest of us should restrict shine to a single part of our outfits. If you love your legs, for example, you can draw attention towards them with a shiny skirt.
If you do dare to wear a shiny dress, though, it doesn't hurt to try a tummy tucker underneath. Tummy tuckers, like the ones made by Spanx, smooth out any figure bumps and blemishes and prevent them from being spotlighted by the shine.
What do you think? Would you wear sequins and shine? And if so, with what? Share your thoughts in the comments!
Entry Filed under: Runway Reviews,Runway Reviews,Trend,Trend Predictives,Trendscape,Trendscape,What's In and What's Out,Women