Q: I'm a medical student about to start my full time clinical rotations. For certain specialties, I can get away with scrubs, but for the ones requiring office appropriate attire, I'm at a complete loss. Anything a little fashionable or a little sexy ends up sending the wrong message under a white coat (Agyness Deyn might be a trend-setter, but would you want her diagnosing your cancer?) But I would really like to look younger and fresher than the boring button downs and slacks that have become my fall back!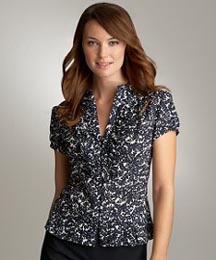 by Jessica Stockdale, Style and Beauty writer at Found4less.com
A: Balance is the keyword to working with this problem. You want to be respected, as you should be. But you don't want to sacrifice style. And the good news is that you don't have to. Other than balance, where you buy your clothes will aid you tremendously in picking suitable attire.

Where to Shop
A store like Express has sexy and fun clothes, but most of which are not going to be appropriate for the office. Same goes for the Victoria's Secret clothing catalog. The good news is that there are plenty of stores to find professionally appropriate attire. We would recommend: Banana Republic, J Crew, Club Monaco, Anthropologie (for their trousers), White House | Black Market (for their jackets), Ann Taylor, and Bluefly.com (especially for their blazers).
What to Wear
The quality of your clothes will also sell your look as more professional. Build a solid foundation wardrobe by investing in some good basics, such as a white blouse, black trousers, a cashmere sweater, and a flattering overcoat. These items will be long-term investments, so if you're going to splurge, do so here.
Where balance is concerned, it's fairly easy. Any piece of "sexy" apparel (e.g. V-necklines, light beading, etc) should be worn in a neutral color and in a not-too-tight fit. That said, there are plenty of garments with modestly cut necklines and hemlines in fresh patterns. Feel free to wear bold colors here—in fact, we encourage it!
We especially recommend the fitted blouses that Banana Republic has right now, in four different colors. They're feminine, but professional. And do check out their cashmere mock turtlenecks and cowlneck sweaters.
Have a great tip about how to dress fashionable yet professionally?
Share it with us in the comments!

Pictured: Cotton Ruffle Front Floral Shirt | $58 at Ann Taylor.

Style question? We've got answers. E-mail us at questions at omiru dot com.

7 comments February 13th, 2008