Q: I always have trouble fitting my jeans into my black knee-high boots. How do I snugly fit them in?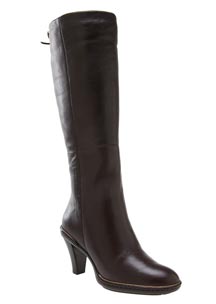 A: What's the trick to fitting jeans into knee-high boots? It's all about finding the right jeans and the right boots.
To be able to fit your jeans into your boots, the boots have to have enough room in the calf. Structured styles of boots work best–form fitting, stretchy material doesn't have enough room to accept the extra jeans material.
As for jeans that work well with boots, the less fabric you have to fit into the boots, the easier the fit. Skinny jeans styles are the best, since they have the least amount of fabric in the leg. I've found that stretchy jeans (which tend to be more form fitting) work nicely with boots, as do jeans in relatively thin fabrics.
Have a great tip about how to fit jeans into knee-high boots? Share it with us in the comments!

Pictured: Sooft Tyla Tall Wide Shaft Boot | $174.95 at Nordstrom.

Style question? We've got answers. E-mail us at questions at omiru dot com.

13 comments February 20th, 2008