Q: How do I pick out an aftershave or cologne for myself? What is the difference between the two? How much is too much, and how do I figure out how much to wear?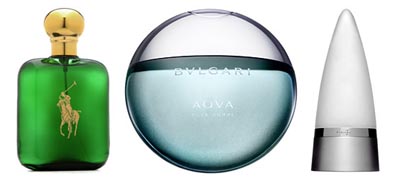 A: Even though aftershave and cologne can smell the same, they're two very different products. Aftershave is meant to condition the skin after shaving, so while it is scented, it contains conditioners to heal your skin after a close shave. Cologne, on the other hand, is purely for fragrance. As such, cologne has a much stronger, longer-lasting scent than aftershave.
How much is too much? While you can splash your face with aftershave, your coworkers will be able to smell you from across the office if you do so with cologne. Cologne is best applied in small quantities—a dab here and a dab there is enough.
Picking a scent is really a personal process. We would recommend going scent "window shopping" first to familiarize yourself with the variety of scents out there. Spray the fragrance on the paper cards provided at the store—that way, you'll be able to distinguish between the colognes. (Plus, you'll keep your wrists and arms scent-free.) Give your nose a break in between sniffing each fragrance. And take your time—the process of elimination to find the perfect scent doesn't need to be done in a day.
Once you get down to the top three to five fragrances, you'll need to actually try them on. Everybody has different personal chemistry, so a fragrance smells different on different people. Your perfect fragrance will be one whose smell you love—but one that also works for your personal chemistry.

Have a great tip about how to pick a fragrance? Or would you like to share your favorite scents? Share your ideas with us in the comments!

Pictured: Polo Ralph Lauren Eau de Toilette | $47.50+ at Sephora, Bvlgari Aqva Pour Homme | $40+ at Sephora, Rochas Eau de Toilette Spray | $44 at Sephora.
9 comments March 4th, 2008