March 12th, 2008
Spring is around the corner, so welcome it in style with these seven investment-worthy wardrobe upgrades.
The Tom Ford Inspired Shirt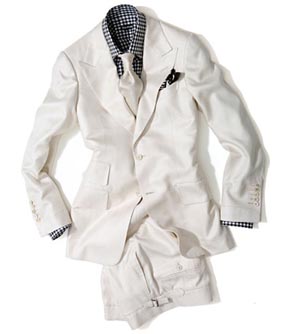 Tom Ford Suit and Shirt, photo courtesy of Men.Style.com.

It's an understatement to say that Tom Ford does everything bold. (Have you seen his ads? And the ones in US magazines are the "toned down" ones; check out the UK GQ for the real deal) So it shouldn't be a big surprise that his spring collection is particularly eye-catching. Unfortunately, not all of us can a) afford Mr. Ford's clothing or b) pull it off. We love the shirt in this suit set. Wear it under a solid colored blazer, such as charcoal, grey—or white, if you have that certain je ne sais quoi. Two more affordable options: the Secret Wash Point Collar Shirt in Large Gingham ($64.50 at J Crew), and a shirt with the same pattern (albeit of a lower quality) for a little less than $100 at Club Monaco (not available online).


The Slim Fit Polo Shirt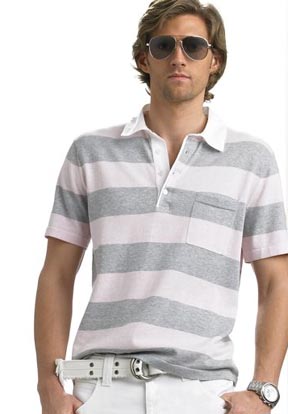 Michael Kors Striped Polo | $175 at
Neiman Marcus

Polos are a staple of any gentleman's casually cool spring summer wardrobe. Some designers to watch: Ralph Lauren's spring line always resonates with color, and their rugby pieces have been recently increasing in popularity. Lacoste is celebrating its 75th anniversary by putting an oversized alligator on their classic polo shirts. Burberry has done two things we've loved over the last couple of seasons: (1) they came out with a slim-fit line of shirts, and (2) they've toned down the pretentiousness factor (i.e. they've gotten rid of that signature Burberry check on the front button placket on some shirts).
Bloomingdales sells a great rugby-striped, slim-fit, ultra-soft cotton polo by Burberry, which unfortunately isn't available online. If you find it in store, check it out in the white/gray colorway. But similar to this Burberry shirt is the Michael Kors shirt pictured above.
The Perfect Chino Pant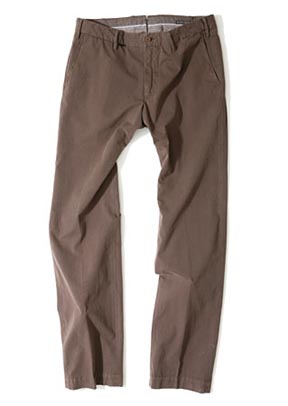 Mason's Chinos, photo courtesy of Men.Style.com.

As it gets hotter, jeans become a little too heavy to wear. Instead, try these chinos from Mason's. They're slim, rich in color and are sans pleats and cuffs. Perfect for any event not held at a country club.


The Lightweight Blazer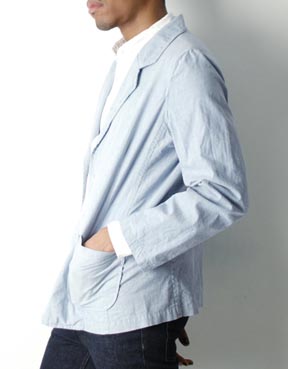 Soft Blazer | $165 at
Oak

When it gets chilly at night—or you need to dress up for that dinner date, you'll want to wear a blazer. If you're looking for a new one, we recommend this blazer by OakNYC, as it's a great lightweight summer choice. Style tip? The trick to instantly casualizing anything, especially coats (even trenchcoats) or blazers, is to push up the sleeves. Note that pushing is not the same as rolling– rolling up the sleeves will wreak havoc on finer jackets.


The Low Top White Leather Sneaker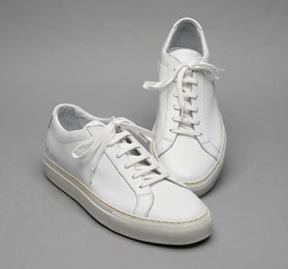 Common Projects Sneakers | $264 at
Revolve Clothing

The perfect casual summer shoe is a low top white leather sneaker. I recommend a slip on by Common Projects (a style that is in fashion at the moment, but not in stores yet). The pictured sneaker, a low-top lace up, is a close substitution. Well made and comfortable, Common Projects shoes bear no logos. Instead, each shoe is individually numbered in subtle gold writing. Style tip? When wearing white sneakers and dark denim, beware: dark denim is often dark because of a powder coating. This powder will rub off onto your shoes (and shirt, for that matter).


The Trenchcoat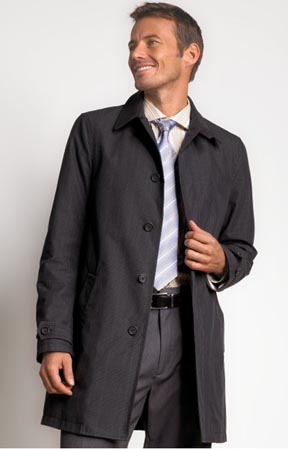 Modern Glen Plaid Straight Trenchcoat | $198 at
Banana Republic

Springtime welcomes warmer weather—but it also brings rain. When storms hit, you'll need to keep dry. This single breasted trench by Banana Republic will do that for you. Note the glen plaid design, which keeps things interesting.


The Lightweight Jacket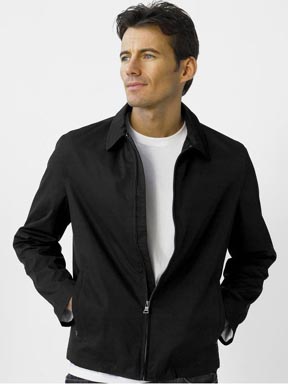 Modern Short Zip Jacket | $98 at
Banana Republic

Even though its spring, it can still get chilly at night. You'll want to have a casual, lightweight jacket like this reasonably priced one by Banana Republic. It's only available online in black - the picture doesn't quite do it justice - but we suggest looking at the cream color, which you can see but not buy online.
Entry Filed under: Men,Shopping Guide,Trend,Trendscape,Trendscape,What's In and What's Out