March 13th, 2008
Q: I will be turning 30 in April and have decided to celebrate by finding a signature scent to wear for the next decade. I do think perfume can add something special, but… a lot of places are becoming scent free, and I don't want something that's either overpowering or girly. How do I choose a scent, and is it considered rude to wear perfume these days?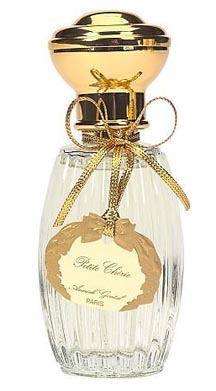 by Colleen Geary, fashion stylist and image consultant
A: At thirty, you should be looking for a complex and sophisticated perfume that reflects your personality and life experience. Select a perfume that speaks to your own unique personality—and one that doesn't overwhelm you.
When selecting a perfume, consider your climate. Some scents are too heavy for the summer, and others are too light for the winter. Beyond that, we can't tell you which perfume to choose—choosing a scent is very personal as each perfume has a different chemical reaction (and thus, a different scent) on each individual. Like we said in our article on cologne last week, we recommend experimenting by (1) finding scents that appeal to your senses, and then (2) seeing how the scent smells on your skin. One trick for clearing your nose from all the different scents (cleansing the palate, so to speak) is to carry coffee beans with you. Sniffing coffee beans will clear your nose from the scent of the previous perfume.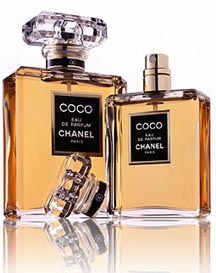 Great classics are usually a good place to begin, so try Robert Piquet's Fracas, Chanel No. 5 or Coco by Chanel. For a non-overpowering, non-girly scent, you may also want to try the lush tuberose scent of Carnal Flower by Frederic Malle. A couple of my personal favorites are Annick Goutal's Petite Cherie (which has pear and peach notes) and Jil Sander #4 (which is a little spicy).
As for your last question, it's not rude to wear perfume–it's rude to wear too much of it. Rule of thumb? If you're riding in an elevator, your fellow passengers should only smell a trace of the perfume. Try a dab here and a dab there–or spray the scent into the air and walk through it.

Have a great tip about how to pick a perfume Or would you like to share your favorite scents? Share it with us in the comments!

Pictured: Petite Cherie by Annick Goutal (left) and Coco by Chanel (right).
Entry Filed under: How To,Q&A,Shopping Guide,Women,Women's,Women's